Wild Hunter UK Online Slot
Play Now and Win up to 500 Free Spins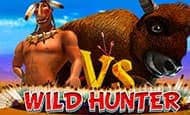 Wild Hunter is a 5 reel, 9 payline slot game with a 95.95% RTP. This UK Online Slot comes with Free Spins, Scatter Symbol and Wild feature.
Go to: All Slots | Fluffy Favourites | Fluffy Too | Fluffy Fairground | Wolf Gold | Shaman's Dream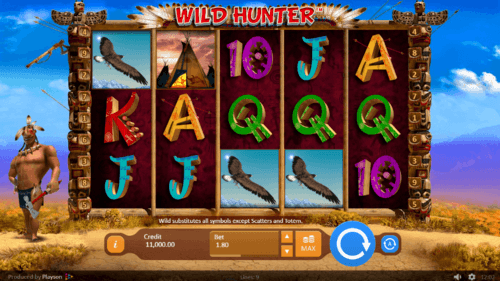 Wild Hunter UK Online Slot
The old 16th century was a tough and rough time for the red Indians. The Europeans were continuously invading their territories and pushing them further into their mainland homes. This game will let you join the wild hunter of the famous tribe Wai Juka of the great plains. You will be hunting bison in this slot game with the young hunter and feel the real need of survival and basic instincts. The hunter has been around for many years in these fields and has a vast experience in hunting down the animals. He will teach you all sorts of survival and wild techniques to make you a good hunter as well. You will have to prove yourself to the hunter to become worthy in his eyes. The hunter was banished from his tribe for being too wild and too rash but he was made for the wild so he survived with ease in these rough conditions. The hunter now lives alone here in the plains where he hunts for a living. He is a reckless warrior who will hunt the biggest animal without fear to survive. You as a fellow Red Indian will join the hunter in his expedition in these Great Plains. He often comes across precious skins of animals and precious items that he collects and stores. If you want access to those items then spin the reels on heavy wagers and then get ready to embrace a lot of wins and rewards.
Wild Hunter Developer - Playson
Playson has got a lot titles up its sleeves for its fans. It has been developing some quite awesome titles for a time now. Other similar titles from Playson include Burlesque queen slot game, Fruits of Ra, Legends of Cleopatra online slot and Marioni Show etc.
Play Wild Hunter Mobile Slot
You will have to face a lot of hurdles because you have to catch the hunter's pace In order to survive and to stay on the main expedition. The hunter will let you have as many kills as you want because he too wants you to become a good hunter like him, take him as your teacher and allow him to teach you all the necessary skills of survival. To be a good hunter you need to have a lot of patience and skills. In this slot to reap good rewards, you need to have a lot of patience and luck. The hunter is also very generous in nature and will love to reward you with his personal collection of precious items. All you need to do is to impress the hunter. Don't get startled by the amazing terrain of the Great Plains with the huge open plains and mountains of this area. The heat will be exhaustive so keep yourself hydrated at all times in the slot. There will be huge grounds and huge opportunities like the unlimited animals that roam these great plains. The sky is the limit for any good hunter or reel spinner in this slot game. All they need is someone with a good eye and consistency in winning. Get ready for an adventure of your life with the hunter because you would be going for a pure raw hunt with a wild Indian and there are very few people before you who have done this. Don't lose your focus from the reels and try to pay attention to the hunter at all times. You can have access to these wild lands on Money Reels where the wild hunter awaits your arrival and is ready to teach you the basic skills of survival. This game offers an RTP of 95.95% with 5 reels and 9 paylines. So gather your weapons, muster your energy because you will be needing it in this slot.  
Wild Hunter Slot Features
The theme of this games revolved around the great red Indian plains with huge animals roaming around and grazing. You will have to awaken the hunter inside you with killing instincts to make sure that you score a kill in this slot. If you have the taste of adventure and thrill then this is the perfect slot that will suit you because it will give you both. The genre of this slot is Adventure and Action. The background of the game shows the great American plains with a never-ending sight of huge hunting grounds and mountains on the skyline. Only those who have guts and some survival instincts will dare to venture out into these open fields. The slot box shows the skills of the hunter in survival as it is carved out of a wood that has been designed by the hunter. It is a stunning design that offers a very impressive view of the eye. The reels have a maroon background with inter reel boundary between them. There are two sets of symbols in this slot. The first one is the lower valued symbols that are the alphabets i.e. J, K, Q, A and 10 while the other higher valued symbols are the symbols related to the game. The extra symbols of the game include the wild symbol.
Wild Hunter Slot Game Free Spins
This amazing and adventure filled hunt will give you a lot of chances to prove your mettle and to claim different rewards and bonuses for yourself. This slot offers the following bonus feature.
The free spins are the best feature of this game and are triggered by two scatter symbols unlike other bonus features that are triggered by a single scatter symbol. To trigger this special feature you will have to get a tomahawk symbol adjacent to a buffalo symbol which will grant you with free spins for your game. Both the buffalo and the tomahawk symbols appear on the 1st reel only and trigger the above feature when found collectively.
When the tomahawk symbol is adjacent to the eagle symbol it will activate a random multiplier of 2x to 50x the total wagers.