Gems n Jewels UK Online Slot
Play Now and Win up to 500 Free Spins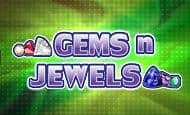 Gems N Jewels is a 5 reel, 50 payline slot game with a 92% RTP. This UK Online Slot comes with Free Spins, Scatter Symbol and Wild feature.
Go to: All Slots | Fluffy Favourites | Fluffy Too | Fluffy Fairground | Wolf Gold | Shaman's Dream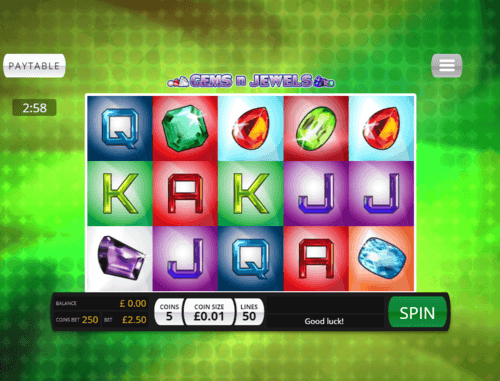 Gems N Jewels UK Online Slot
The theme of the slot game sometimes is integrated into objects that are just the rewards. This sort of genre, whether it's close to the action, adventure etc. isn't uncommon and can be easily be found anywhere online. All it needs is the player's interest and the game is ready to be played. The game that is about to be discussed is quite similar to the discussed idea.
Gems N Jewels Developer - Genii
Gems N Jewels online slot developed by Genii,  if you are into jewels, gems, and slots, Genii's Gems N Jewels is just the game for you to try your luck with. Some of the other games from Genii include Stones and Bones slot and Horn of Plenty Spin16 slot game.
Play Gems N Jewels Mobile Slot
Here's an interesting fact: when we were developing as human beings, we came to find out a lot about the resources that we are blessed with through nature. While there were food and meat, not to mention the tides of weather that would allow to harnessing the crops on a global scale, there were things that were not quite edible but were definitely in demand for daily usage. Of course, the purpose of every substantial thing present on earth doesn't have to be eaten or drunk to be utilized.
There are so many ways that things can be used in the right way. And, of course, there is not one right way when things can be useful. For instance, Iron is a substance that has been used and utilized by our ancestors for ages and generations. Why? Because it's tough and can be used in many ways to help us achieve things that require strength beyond human capability. It's been used in constructions, wars, daily life etc. Iron is just a simple matter that has been used for ages now. But, what about things that were not so strong or even of any use?
Come to think of it, most of them gained our attention in a very remarkable manner. We don't get to see gold being used so much in the construction industry. We have never heard of diamond or emerald being used in generating power. But, despite their inability to be used anywhere in the world for any productive force, they are sought and demanded by just about everyone in the world. Why, you ask? Because of their value, and the mere fact that jewels and gems are some of the most rare and expensive substances in the world.
Gems N Jewels
Slot Features
If you are into jewels, gems and things that are very rare and hard to find in the world, then this slot game is the just the thing for you to try. Gems N Jewels offered by Genii is one remarkably beautiful game that is filled with the most exquisite gems that have never been seen. With a green and pleasant background Gems N Jewels is the kind of game that will take you to a new level of scoring of trying your luck and see how much you can get as you play the game and win rewards of all kinds. The objective of the game is similar to any slot that you can pick, but the difference maker comes when the game is seen, observed and helps entertain the player. 
When it comes to slot games, you might want to know a thing or two about the technical features and what the game really has to offer. For starters, the RTP of Gems N Jewels is around 95-96%. The paylines offered in this game are 50. The minimum bet that can be made is 0.01 while the maximum is 0.25. In order for Jackpot to happen, all the player needs to do is get 6000 points. As far as the structure of the game goes, it is 5 x 3 reels.  Moving on to the more graphical details, the symbol to really look for is the Wild symbol, which promises the player as much as 6000 points if found 5 times in the reel. The Scatter symbol, which is a green gem symbol, can offer as much as 50 points along with 30 free spins if found 5 times in the slot.
Gems N Jewels
Slot Game Review 2019
There are plenty of games all around the internet that share the resemblance with Gems N Jewels as far as the theme goes. One of the games that come very close to Gems N Jewels in this regard is Mona Lisa Jewels slot. Both games have jewels and gems as a centre of their background. In many ways Mona Lisa Jewels resemble Gems N Jewels owing to the fact that their features and offers are somewhat similar. One other game that is most sought and shares the same theme and holds a strong resemblance with Gems N Jewels is Mega Stellar. The game, just like, Gems N Jewels focuses only on jewels and everytime you consider playing Mega Stellar, it's almost as if you are playing a spinoff or a sequel of Gems N Jewels. Other games that are worth mentioning are Reel King Potty, White Knight, Jackpot Jewels Slot, and Spirit of the Inca.
A lot of names fall in this category. There are quite a number of games that can easily be associated with Gems N Jewels as far as the features, RTP, and bonus offers go. Hairway To Heaven is a rather clever name for a slot that is very similar to a famous song Stairway to Heaven, but as far as the slot goes, it shares a great deal of resemblance with Gems N Jewels. Dam Rich is also another interesting game that is not just cleverly thought, as far as its name goes. Dam Rich and Gems N Jewels are somewhat close when it comes to rewarding the player with the rightful offers and features. Certain names also make it into the list such as Lucky Lager, Golden India Slot, Shark School, Henhouse slot, Slotingham Palace (named after Drottningholm Palace) and finally The 100,000 Pyramid Slot.
If you are looking for a variety of slots and offers, Money Reels offers all kinds of themes and slots.